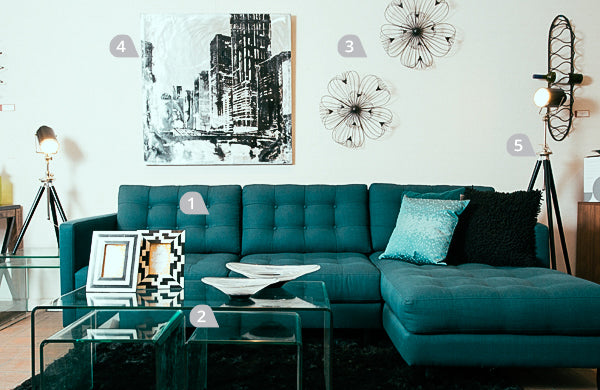 Feb 05 , 2020
Get inspired by these three living-room vignettes from Andersonville's Cassona, the import-loving furniture store where rugs can be artwork and Buddha statues sell like gangbusters.
In a Swedish neighborhood known as a midcentury-modern design mecca, how can one furniture store set itself apart? Its name, for starters.
Cassona (5241 N. Clark St.), which derives from the Spanish word for "mansion," may be filled with tufted sofas that feel plucked from the offices of Sterling Cooper Draper Pryce, but that wasn't always the case. Owner Alma Gutierrez was originally inspired by the beautiful furniture and exotic designs she encountered while traveling abroad. Her first import was a truckload of rustic furniture from Mexico—complete with handmade accessories such as copper vases and tin mirrors—sourced from artisans in small towns.
While the shop has adopted a more modern milieu since then, it hasn't abandoned its global-design roots. Instead, sleek, domestically made furniture blends seamlessly with handpicked imported accessories from places like Peru, Thailand, and Vietnam for a look that somehow manages to feel classic and eclectic at the same time.
Blending the two styles may feel intimidating, but the shop's buyer, John, and manager, Angel, are on hand to help. They've arranged various pieces and accessories into mock home setups—what they call "vignettes"—to give customers decorating ideas. Shoppers are encouraged to bring in floor plans or pictures of their rooms, and many pieces can be altered to suit their individual tastes. "Everything on the floor is a sample," Alma says. "You choose the fabric, the legs, the size. We can swap out wooden for metal legs and scan tons of fabric selections to find the right fit." Sometimes, John will even keep an eye out at furniture shows if the shop doesn't have what a customer wants.
On a recent visit, Alma and John took us through three of the store's current vignettes, and explained how customers can use the store's designs as inspiration for their own living-room makeovers.
Theme: Metal on Metal
Pictured: (1) Klein metal-leg sectional ($3,350) | (2) Lennox coffee table ($699) | (3) Cast floor lamp ($199.99) | (4) Straiation clock ($99) | (5) Spike wall clock ($79.99) | (6) Ceramic vase ($49.95)
"It's always good to start with the sofa," says John, who prefers pieces in neutral shades, like this charcoal-hued sectional (1). That way, he explains, if you want to change your color scheme later, you can just swap out a rug, artwork, and photos without spending thousands of dollars.
This particular living room combines various metals for a look that's uniform and relaxed. But while the tones are similar, the shiny accents like the chrome coffee table (2) and clocks (4 & 5), as well as the brushed-steel couch legs, add depth and interest. The silver ceramic vases (6) feel almost like Moroccan lanterns and would cast romantic shadows if used as candleholders.
The look also feels expensive, but many pieces are surprisingly affordable. For instance, the arch lamp (3), one of the room's focal points, was modeled after a similar lamp priced in the thousands. Alma says one thing Cassona works hard to do is to find pieces "for a much better price without sacrificing much of the quality."
Theme: Teal Monochrome
Pictured: (1) James two-piece sectional ($2,149) | (2) Lumeno glass coffee table and end tables ($425) | (3) Floral wall art ($49.95) | (4) Chicago River on polished aluminum ($249) | (5) Spot floor lamp ($145)
Though he prefers couches in neutral shades, John admits that this teal piece (1) has been incredibly popular because it's bold but also easy to match to many other colors. He likes to pair the teal with purple and metal.
Alma likes the glass coffee table and end tables (2) because "visually they clear the room," meaning they serve a practical purpose but don't take up visual space. This makes them ideal additions to a smaller room.
On the wall, the team paired a painting of the Chicago River (4) and two metal flowers (3). To produce the industrial effect on the river painting, the artist started with canvas, adhered a sheet of aluminum to it, and painted over that. Combining the metal cityscape with the flowers balances the room's feminine and masculine qualities.
Theme: Textural Layering
Pictured: (1) Taylor sofa ($1,195) | (2) Studio lift coffee table ($275) | (3) Padilla silver-leaf mirror ($359.95) | (4) Inigo table lamp ($99.95) | (5) Buddha figurines ($19.95–$24.95) | (6) Luxury shag rug ($196–$636; on sale)
This living room presents many opportunities for a personal touch, starting with the midcentury-inspired sofa (1), one of Cassona's create-your-own items. To fit it in your living room, simply pick any fabric and build from there. The table (2), meanwhile, folds into a higher and lower tier on hinges. One of the shop's bestsellers, Alma says it is "very practical because it can be a coffee table, dining table, or a desk."
Because of their unique patterns and textures, Cassona's rugs (6) are used as artwork by some people. Here, the earth-toned stripes—evocative of an animal print—create movement, while the mirror (3) adds a contrast of textures, creating even more depth. It also helps to bounce light around the room.
A set of two Buddhas (5) adds an extra flourish. "We sell a lot of Buddhas," Alma says. The store's Buddhas come from all over East Asia, Tibet, and China.
Even if you're not into Buddhas, small figurines (Alma says owls and pigs are also very popular) or other personal touches are a nice addition, since they can help make a room feel lived-in without a lot of effort.